All Kinds of Stuff
If We Don't Have It, You Don't Need It!
We have: • Ideas that make you look COOL to your customers. • Stuff that won't be thrown away when the trade show is over. • Customer gifts that don't cost an arm and a leg. • +20 years of ideas and products that work for you. • Inexpensive gifts to get you past the gatekeeper. • Much, much more! Our showroom and office are located at 1231 Potomac Court, Wilmington, NC. Please call for an appointment. Member PPAI, CAAMP, SAGE and UPIC.
Featured Item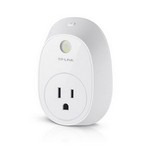 TP-Link Wi-Fi Smart Plug with Energy Mon...
Control your electronics and your energy costs with this TP-Link Wi-Fi Smart plug. The energy-monitoring feature makes it easy to keep track of a device's power usage history, and the pass-through plu...
$43.99
What Our Customers Are Saying

You always know how to find just what we need, and thank you for making the process so easy. Your customer service is the best and most personal I have ever found! Thanks for all Ann, and take c...
Aimee Donaton
May 12, 2010